On May 25th, MAFDA hosted its 20th Annual Golf Outing at the picturesque Downingtown Country Club nestled in the rolling hills of Chester County, Pennsylvania. This event helps the association raise money for the scholarship fund which benefits students of our MAFDA members. From the moment participants teed off, they had the chance to engage in meaningful conversations, discuss industry trends, and forge stronger relationships between distributors, suppliers and manufacturers. From the longest drive contest to the closest-to-the-pin challenges, every hole presented an opportunity for players to showcase their skills and vie for the title of the day's best team. 1st place was awarded to Lee Johnson (Lee S Johnson Associates), Ralph Barone (RAB Components), Ben Frazier (Long Lok Fasteners) and Gary Root (State Farm)
Once every team had completed all 18 holes they returned to the country club to an open bar and delicious hors d'oeuvres. While the attendees had the chance to brag about their best drive or putt of the day, we gave everyone the opportunity to play in our raffle for some great prizes which included a 43" smart TV, a golf rangefinder, yeti cooler, portable grill and several summer backyard games. We had the great fortune of awarding 5 students scholarships totaling $13,000 to put towards their tuition for the fall semester. A big thank you goes to Barbara Shimer for all her work as Chair of the Scholarship Committee.
Beyond the competition and networking, the MAFDA golf outing created lasting memories for all involved. From the cheers of encouragement to the shared laugher and friendly banter, participants formed bonds and friendships that extended beyond the course. We would like to thank Lee Johnson and Brenden Shields for taking the time to pull this great event together.
Scholarship Recipients
Tyler Nice – $3000 (Specialty Resources)
Reily McGough – $3000 (Guidon Corp)
Andrew Hanson – $3000 (The Hanson Group)
Alex Misevski – $2000 (Nylok – Hawthorn, NJ)
Cailean Nolan – $2000 (Metric & Multistandard Components)
*********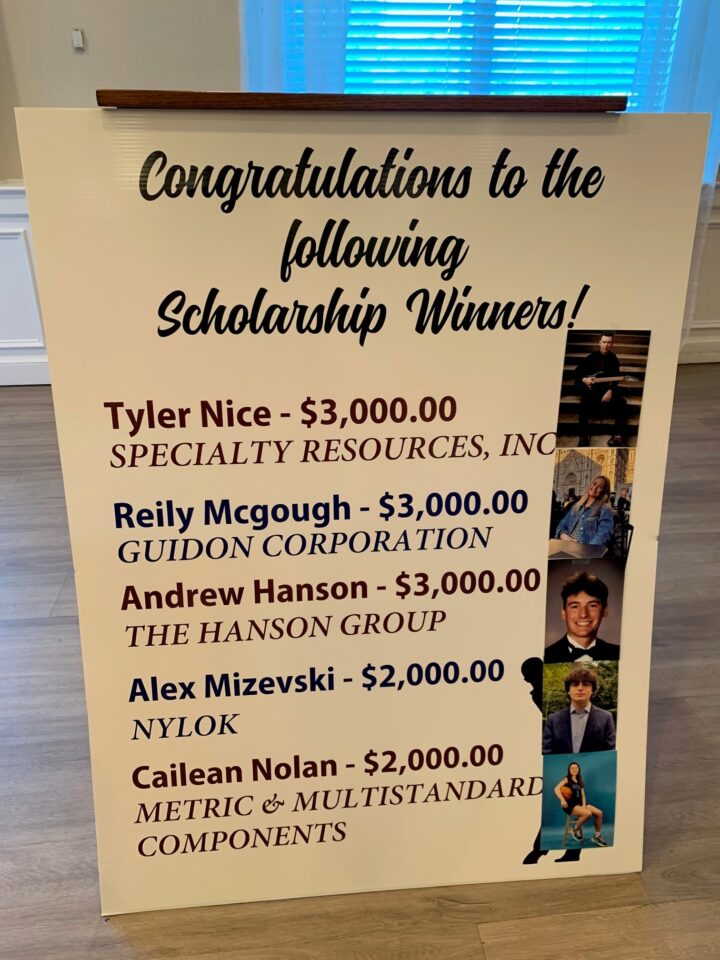 The Golf Outing this year will be Thursday, May 25, 2023 at the Downingtown Country Club      https://www.golfdowningtown.com